It wasn't an April Fool's Joke — when Facebook announced on April 1 that it would be introducing Facebook Community Pages, they really meant it.
For anyone that hasn't heard of a Facebook Community Page, this new designation can used to create a page that is focused on a cause, a person, an idea, or a group.  Sounds pretty similar to a Facebook Group or Fan Page, right?
Sort of.
Here's a breakdown of Facebook's offerings:
A Facebook Fan Page: Best used to promote a brand, business, website, a person or a product/organization, Fan Pages are run by administrators whose identities are concealed. Fan Pages can include FBML (Facebooks special mark-up language) as well as numerous applications and can push out updates similar to a personal Facebook page.
A Facebook Group: Best used for hobbyists or folks with similar interests. A Group is run by a single or group of Facebook users and the identity of said user(s) is shown on the group page. Groups can be private or public and do not allow for the same update push that Fan pages do.
A Facebook Community Page: This new feature can be used in concert with a Fan Page. In fact, according to many of the Facebookerati, the Community Page functionality was put in place so that unofficial fan pages could exist. According to Facebook, if a Community Page generates enough fans/supporters, it can be adopted and maintained by the Facebook Community. (Think of it as a Facebook-platform wiki)
Still confused? Say you run an ecommerce site built around selling pet toys. Your Fan Page can and should represent your website. Now say you're the creator of a charity we'll call Fido's Friends. Where you wouldn't talk about the charity a lot on your Fan Page, you could create a Community Page and list all of your upcoming projects and fund-raising events.
Setting up a Facebook Community Page
Creating a Facebook Community Page is fairly easy. Head to http://www.facebook.com/pages/create.php and select the type of page you want to create. Facebook took the liberty of describing what each type of page is suggested for if you're confused.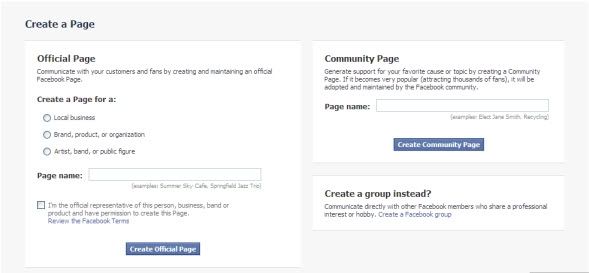 Once you've created your Community Page, you can add as much flair as you want. The functionality is very similar (if not identical) to a Fan Page, so you are able to add apps including the much-loved FBML.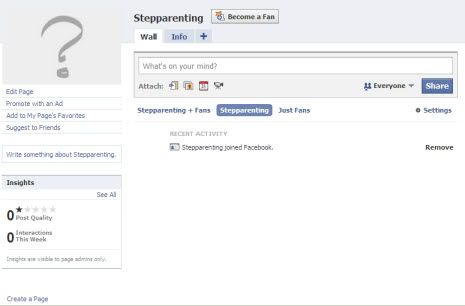 Once you have customized your page, you will be able to promote it to friends like you would a Fan Page and continue to collect Community "Fans."
If you've had a Facebook Fan Page set up for any amount of time, you may have noticed a little thing called Facebook Insights. This "tool" is reportedly Facebook's answer to analytics.
Most SEO and social media consultants will feel compelled to tell you that Insights offers very little insight. Aside from who has commented on your updates and the age, gender and geographical breakdown of your fans, there isn't much other insight Insights can provide.
Almost makes you wish there was a way to use Google Analytics to see how your Facebook Fan Page is doing doesn't it?
I'm happy to report, after finding a hack produced by the folks at Webdigi, a London-based Web Development company, there is a way to set up your GA account to retrieve Facebook stats.
Here's how:
Assuming you already have a Google Analytics Account, set up a new website profile, titling the new profile "Facebook," "Facebook/URL" or something you'll know is your Facebook analytics. Be sure to find and copy the UA code provided once you set up the new profile. (the code will look something like UA-#######-#)
Because Facebook allows for limited Javascript (whereas Google Analytics required a more robust use of Javascript), you'll need to create an image of each Facebook page you want to track. Luckily, Webdigi has a Google Analytics link generator for Facebook pages (http://ga.webdigi.co.uk/) available for free use (thus far, this is the only tool available that I can find that does this sort of link generation for Facebook to GA).
Copy the entire Webdigi code provided into the part of the Fan Page you are tracking. (For instance, if you want to track your coupon tab, discount tab and special offers tab you'll need a separate code for each page.) You'll need to paste the code in an FBML on that page, below whatever HTML you may have used in the FBML (see image).

To track your Facebook Fan Page Wall, you'll need to create an FBML page which can be transferred into a box that appears on the left hand side of your wall. One of the best ways to do this is to post a list of resources or links, embedding the Webdigi below your HTML.
Google Analytics will take approximately 24 hours to confirm your code and begin to report results. Once the checkmark appears next to the name you've designated for your Facebook Google Analytics, you will be able to measure metrics above and beyond what Facebook Insights provides.
I hate paying for things that I can find and use for free, particularly when it comes to my online projects. 
In an effort to save myself time and money, I rely on a handful of free online tools to help me improve my websites, online marketing and social media campaigns. These websites include:
Smashing Magazine
(
http://www.smashingmagazine.com/
). Smashing Magazine is a hidden gem I advise everyone to bookmark. While the site is aimed mostly at web designers, its  templates and free tools (not to mention the inspiration) are aimed at anyone with a penchant for the web. Of particular interest to e commerce web site designers and owners is the icons section (
http://www.smashingmagazine.com/tag/icons/
), which features hundreds of downloadable e commerce buttons, graphics, icons all for the price of mentioning the artist's name in your credits.
HubSpot Website Grader
(
http://websitegrader.com
) HubSpot, like Smashing Magazine, offers a bevy of free tools you can use to grade your website and campaigns. To grade your website, enter your site's URL on the first screen of the site. The resulting grade (out of 100 points) and report will indicate where and how you can improve your website. These improvements can include information on meta data, keywords, Google Page Rank, Traffic Rank, inbound links. A similar grader is available for blogs as well.
Google Webmaster Tools
(
http://www.google.com/webmasters/
). As a self-professed fan of Google Products, I use Google Webmaster Tools in concert with my Google Analytics to make sure my websites aren't doing anything hinky. A simple verification is all that's needed to unlock information on inbound links, top search queries, keywords and crawl errors. Like the two sites listed above, Google Webmaster Tools is also free. 
E commerce social media campaigns
HubSpot's Grader.com
(
http://www.hubspot.com/marketing-tools
)  Part of the same family that offers the Website Grader, Grader.com also includes tools to help you rank and improve your Facebook Fan Page, Twitter rank and posts, Press Releases and calls to action. Similar to Website Grader, all of these tools are absolutely free.
Mashable
(
http://mashable.com/
) Mashable isn't a tool so much as a multitude of posts about all things social media. From how-to's about construction a YouTube channel to the lasts report on Google's new phone, Mashable is a free website (no subscription necessary) that will have you sounding like an online expert in no time. The site also includes how-to guides for understanding and using both Twitter and Facebook.
Sometimes you just want to try a new tool for the sake of streamlining your productivity. These two websites offer daily doses of free tools to try:
UsefulTools.com
(
http://www.usefultools.com
). On this site you can find apps to organize your email discussions or wishlists, design a custom website, get feedback on an idea or even download a directory of cool Twitter Apps.
Lifehacker
(
http://lifehacker.com/
). As the name implies, Lifehacker helps with hacks for your life. From creating your own Gummy candies to finding out the best DVD ripping software, Lifehacker, will have you wondering how you ever survived with out it.